Living in San Diego with a dog is heaven. I can't think of another city that's more pet friendly.
There are 18 off-leash dog parks in San Diego.There are 4 off-leash dog beaches in San Diego: Dog Beach in Ocean Beach, Coronado Dog Beach, Fiesta Island, Del Mar Dog Beach.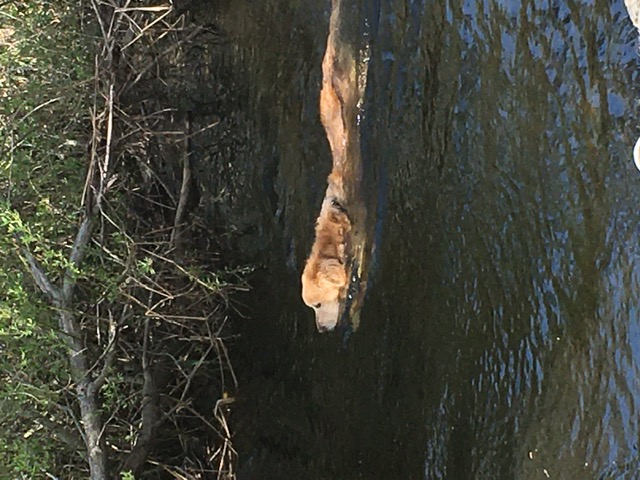 Here Are 10 Places Where Kids And Dogs Can Play!
Los Penasquitos Canyon Trail 12020 Black Mountain Rd San Diego
I'm so glad we went on this 7.3 mile hike with our dog. It's hard to believe this canyon exists in the middle of Sorrento Valley. When we parked in the lot I was disappointed. We were surrounded by business parks, and the noise from the 805 was unnerving, but as we walked further into this open space we reconnected with nature. My son and dog swam under a waterfall. We crossed quaint bridges, and even spotted a cayote. It was quite an adventure. The best part was seeing my son bond with his dog. They were both so happy.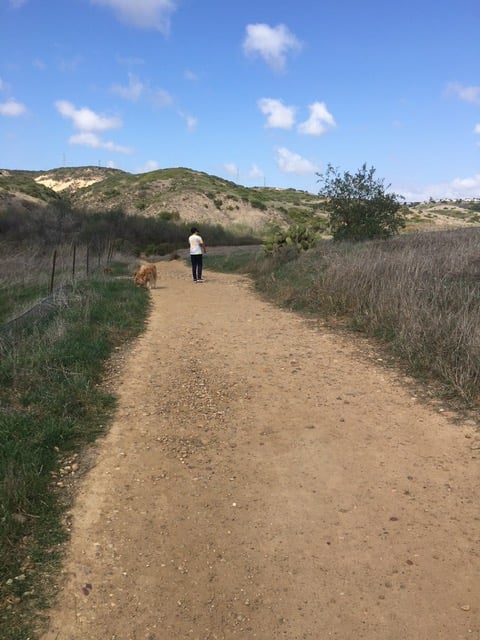 Bottom Line-We took the Waterfall Trail, and it was quite a workout. I was sore for about two days. We did spot a five year old ripping through the trail on a mountain bike, but I would say this is a trail for moderate hikers and bikers, more suitable to kids 8+.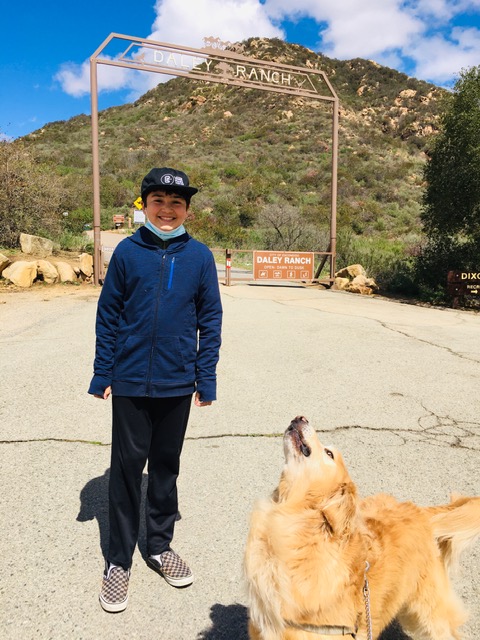 The Daley Ranch 3024 La Honda Drive, Escondido
Do you want to get away from it all? Then this is the place with over 25 miles of trails and 3150 acres, there is a lot to love about this stunning preserve in Escondido. You can hike it, bike it, or ride a horse along the trails. Dogs are welcome. We took in spectacular views of Lake Dixon, and passed by gigantic granite boulders. There are benches along the way, restrooms are located at the entrance, and there is also a picnic area at the base. Markers along the trail with information about native plants were helpful.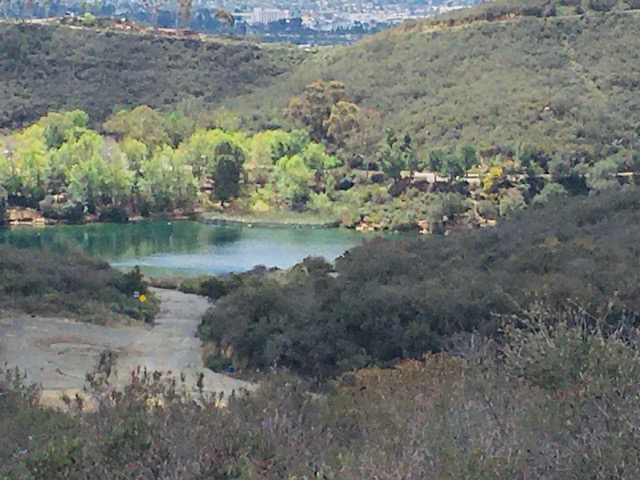 Bottom line- There are a variety of hiking trails. We chose the easiest trail at La Honda Drive, and I would recommend it to moderate hikers. There are some rocky inclines, so it may not be suitable for children under age 10.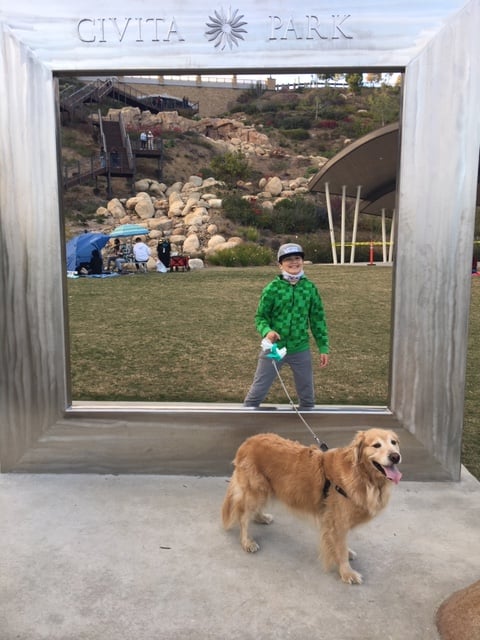 Civita Dog Park 2355 Via Alta San Diego
Civita is so much more than an off-leash dog park. It's a fourteen acre public park with parking and restrooms located in the Civita Apartment Complex in Mission Valley. It's a green space, playground, there are sprinklers, basketball courts, and two impressive dog parks (one for dogs under 30 pounds, and another for larger breeds). You'll get your exercise walking up to the dog park. We met plenty of friendly dog owners and their adorable pets on a Sunday afternoon. My dog loved the park, and the entire complex was bustling with outdoorsy kids and dogs. It's known as "The Central Park" of Mission Valley.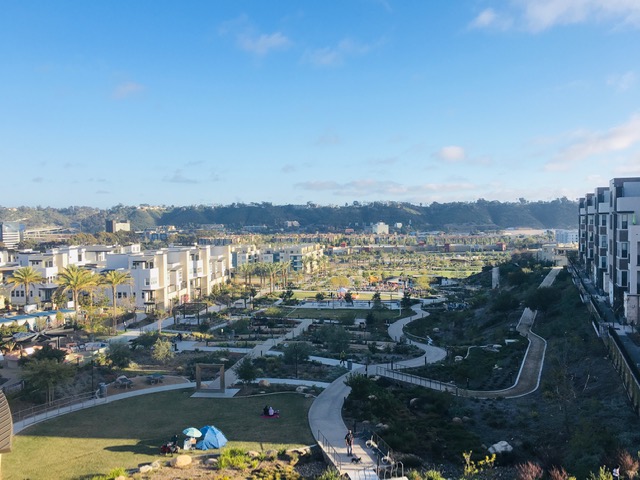 Bottom Line-Suitable for all ages! Young children will love the playground.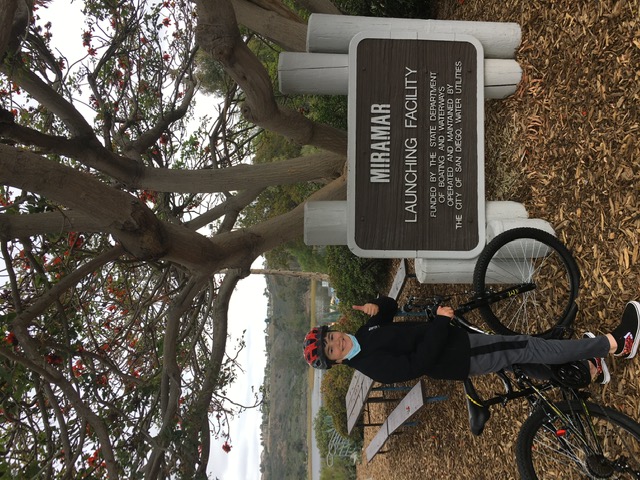 Lake Miramar 10710 Scripps Lake Drive, San Diego
We arrived at Lake Miramar on a Sunday morning at 9:30 AM and it was already busy. Walkers, bikers, kids on roller skates were making there way around the five mile loop. Parking was limited, but we found a space in 3 minutes. The loop was a lot of fun to bike. It was doable for my ten year old since it's a flat, paved road with benches along the route for plenty of breaks. The lake is scenic with ducks, and boaters.
Bottom Line-Easy loop whether you walk, bike, or roller skate. Great for all ages!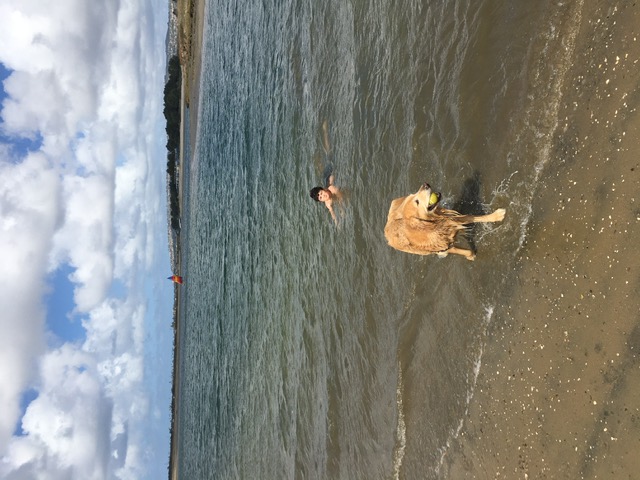 Fiesta Island 1590 E Mission Bay Dr, San Diego
Fiesta Island famous for its Over The Line Tournament, but for us it's an old favorite. I love going to the beach with my dog and not worrying about time restrictions like other beaches that only allow dogs on the premises in the morning. It's usually not crowded on weekdays. It's almost like having a private beach to ourselves. My son and dog swam and played. My dog loves the water and cries for joy whenever we take him to the beach.
Bottom Line-Plenty of space to swim, roam, bike, even ride a horse. Great for all ages!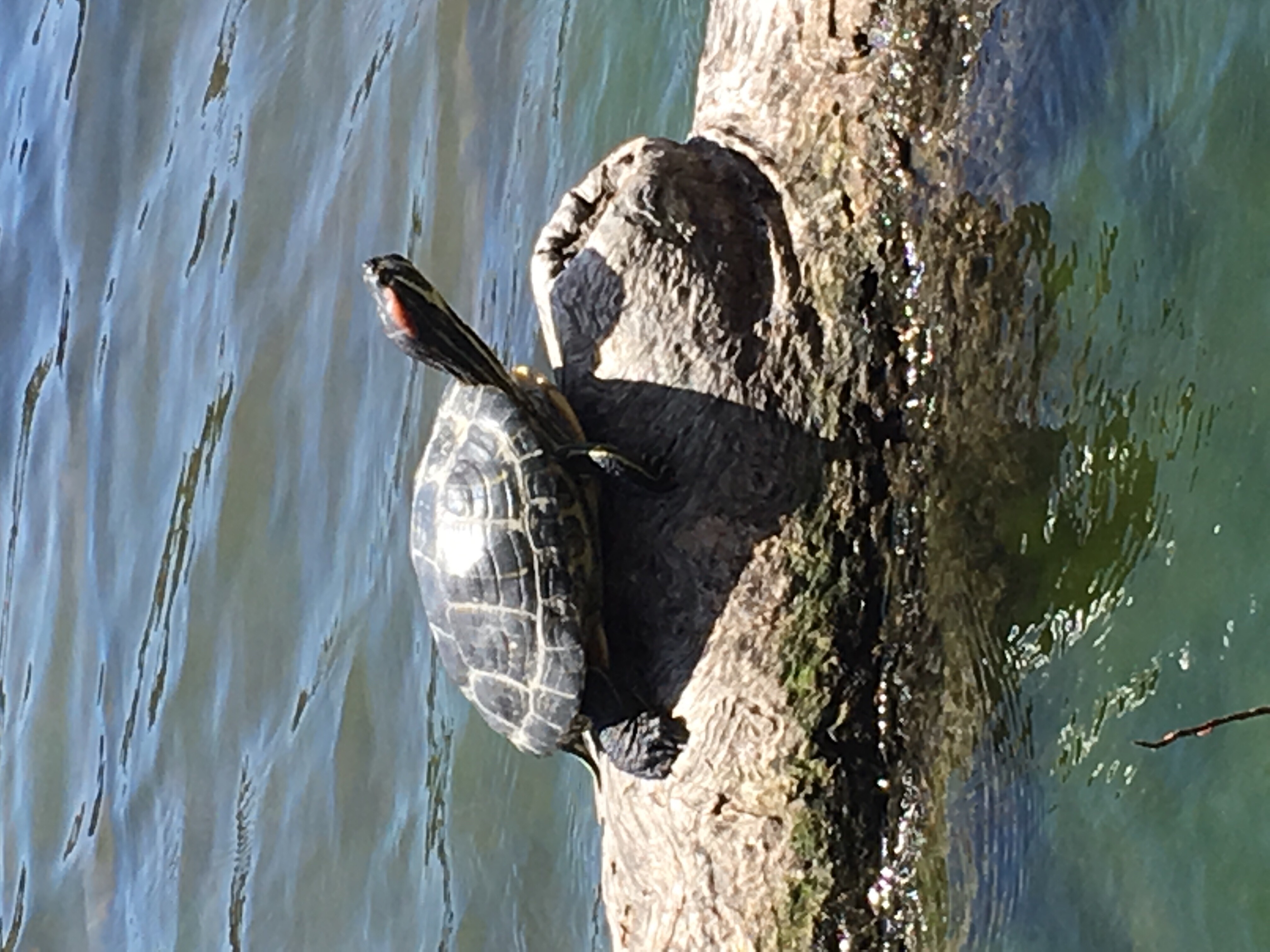 Chollas Lake 5850 College Grove Dr, San Diego
Chollas Lake has so much to offer, playgrounds, trails where dogs are welcome, a lovely pond for fishing, or observing ducks, geese, and turtles. It's so charming. It's easy to stay for awhile.
Bottom Line- Kids and dogs love this place.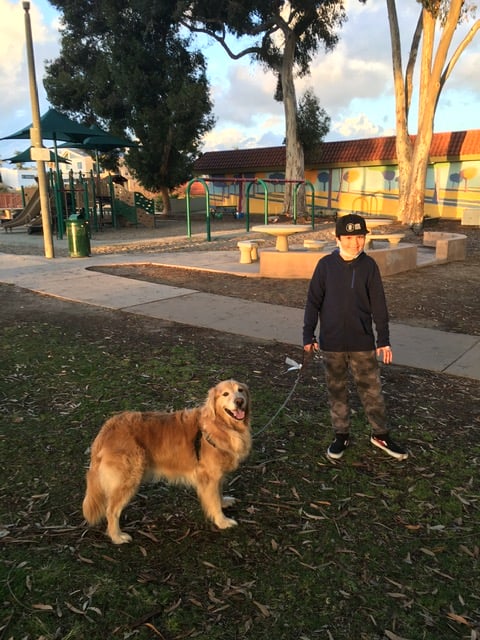 Pioneer Park 1521 Washington Pl, San Diego
Wonderful park for young children and dogs. The quaint playground perfect for little kids, the grassy area is ideal for picnics, or a game of soccer. There is a paved road that runs along the park perfect for scooters, bikes, and roller blades.
Bottom Line-Great for all ages!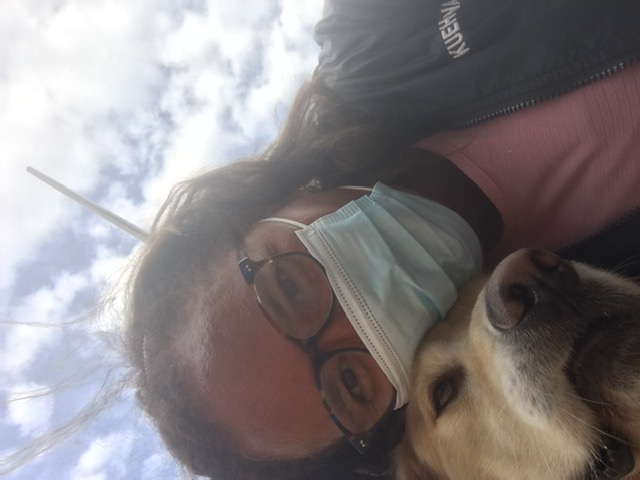 Balboa Park 1549 El Prado San Diego, CA
What's not to love about Balboa Park? You can find 1200 acres of green space that includes: trails, playgrounds, picnic areas, a dog park located at the entrance, museums, gardens, and plenty of restrooms. I went last Sunday with my family for a picnic with the pooch. It was so enjoyable. Being able to spend time as a family with our dog makes every event special. Our happiness is tenfold when he's with us.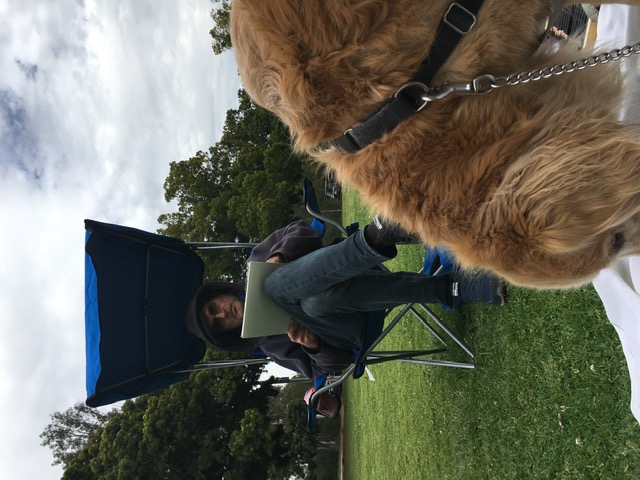 Kit Carson Park 3333 Bear Valley Parkway Escondido, CA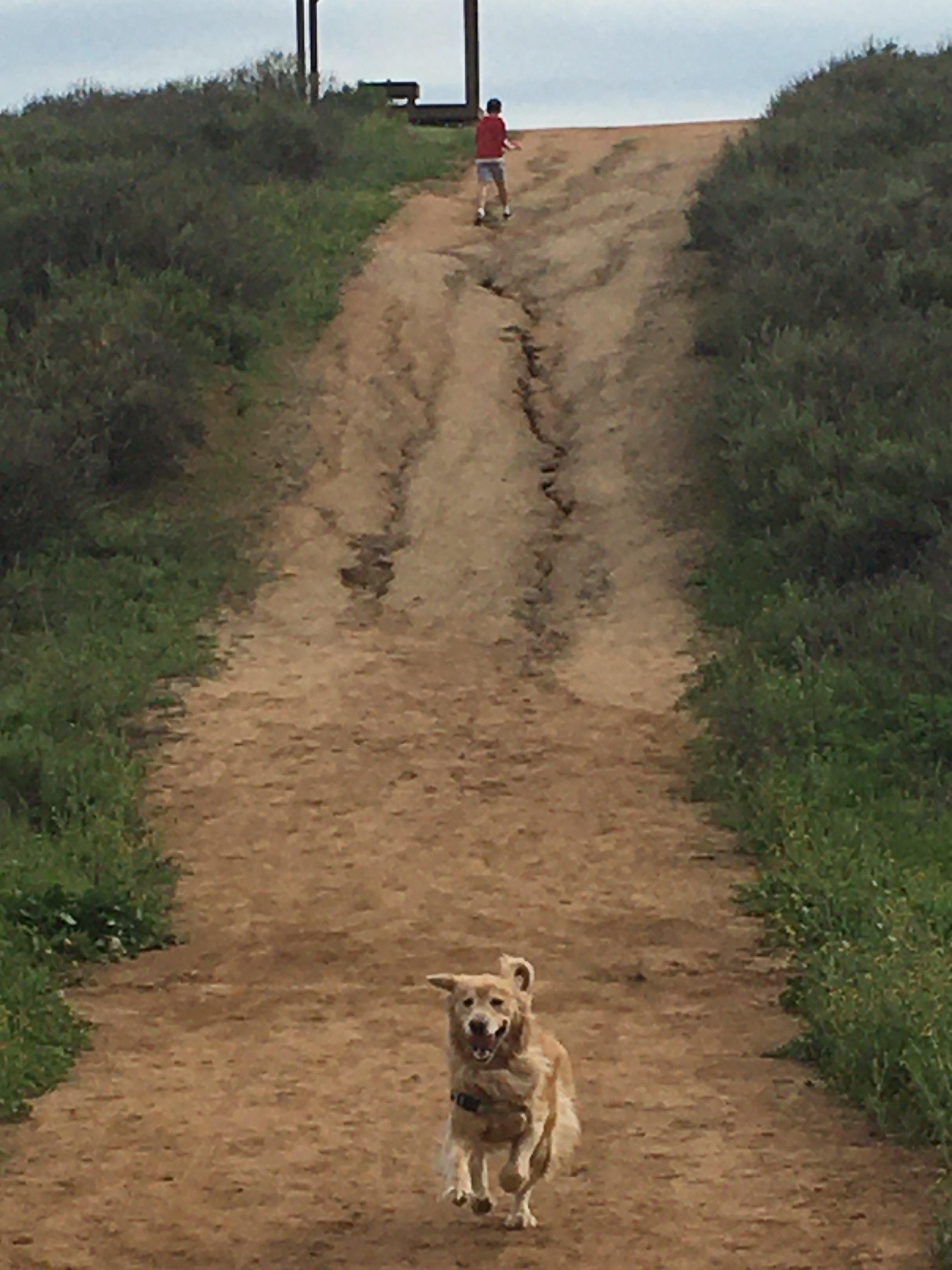 Hiking and biking trails, three ponds, playgrounds and the Niki de Saint Phalle Sculpture Garden are just a few of the attractions in this amazing park. We love visiting Kit Carson Park with our dog. There is something for everyone in this outdoor space. It's worth the trip!
Bottom Line-Great park for all ages!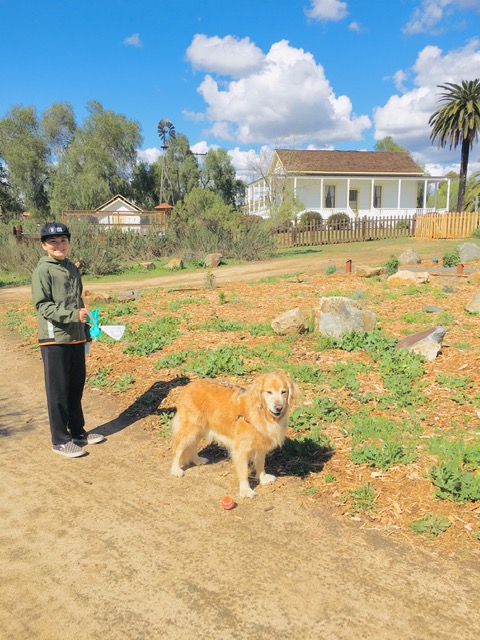 San Dieguito River Park 18372 Sycamore Creek Road, Escondido, CA
Sunday is the best day to visit San Dieguito River Park during their Farmers Market from 10AM to 5PM. After shopping, stroll through the last Adobe home in California, and walk along the Coast to Crest Trail.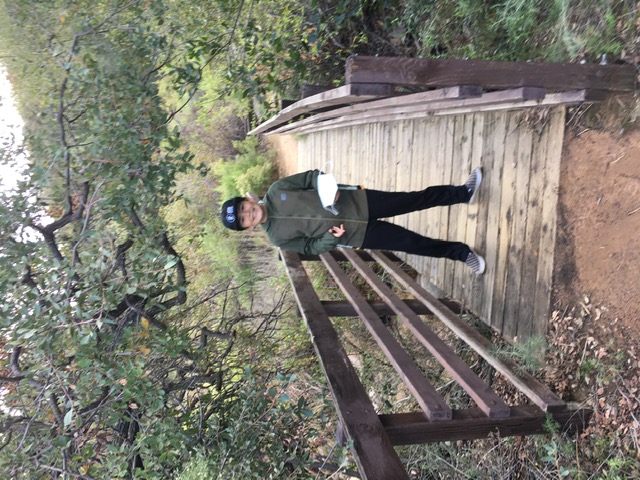 Bottom Line- Easy to navigate your way around the trail. It's perfect for all ages and abilities.
Stay Informed Join Central San Diego Macaroni Kid It's Free!